ISO Certificate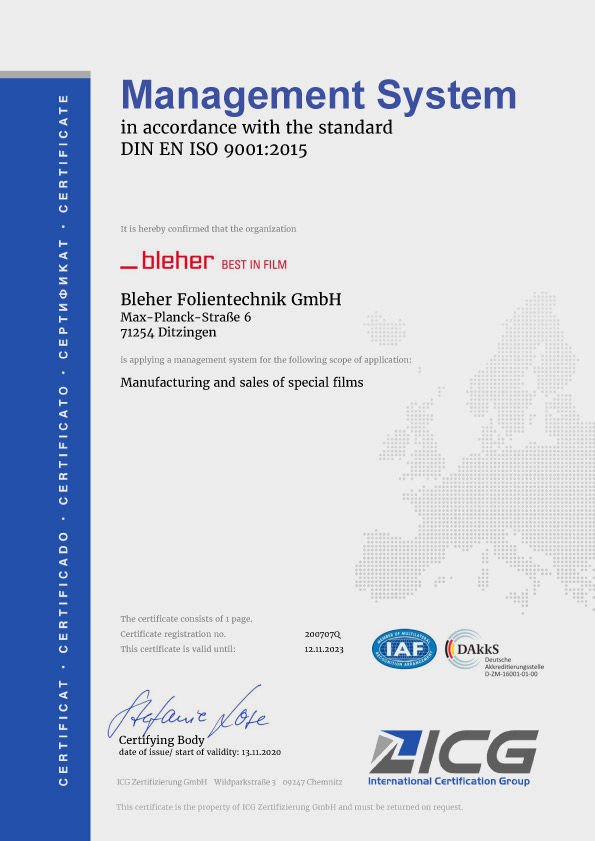 We are certified according to DIN EN ISO 9001:2015.
The ISO 9001 certifies the existence of a quality management system and thus guarantees a high level of quality.
Our certificates have the following scope: production and distribution of special films.
The consequent implementation and regular review of the specifications are a guarantee for our customers for a maximum of reliability and quality.
The ISO certification as well as the associated annual audits by ICG document our high quality standards and make them measurable.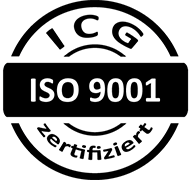 AEO-C Certificate
We are certified AEO-C.
This development establishes Bleher Folientechnik as an 'Authorised Economic Operator' and with it Bleher Folientechnik is rated as a particularly trustworthy and reliable supplier in the context of international trade.
The AEO certificate was introduced in 2008 alongside the introduction of the Authorised Economic Operator initiative and it is partially modelled on the USA's Customs-Trade Partnership Against Terrorism (C-TPAT). The aim of this initiative is to make the supply chain more transparent and prevent non-transparent business practices.
Wide ranging conditions are attached to the certification procedure. Checks are made with respect to the company's ability to adhere to the applicable legal / safety regulations, its reliability and last but not least, its creditworthiness. At the same time, before an AEO audit can be carried out by customs officials, a lot of preliminary work has to be concluded. A wide ranging questionnaire checks all the key elements.
For our customers, the certificate confirms that Bleher Folientechnik is established as a reliable and trustworthy associate in the field of international trade. Thereby our customers are now able to benefit from quicker customs clearance.